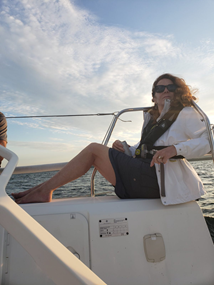 Cindy Kalow has been a boater for 30 years and a sailor for over 25 years. In 2004, purchasing Superior Charters, she left her corporate job in Minneapolis, Minnesota to pursue a dream with her husband of raising their family on the shores of Lake Superior. In 2007, they expanded the business adding brokerage boat sales and became a Jeanneau dealer in the Midwest. Cindy became the sole manager of the company in 2014 as her husband took over management of a failing company in a different industry. In 2018, Superior Yachts Sales was named the Lagoon catamaran dealer for the western Great Lakes.

In an industry that struggles to maintain market share of recreational spending dollars, Cindy has grown revenues of Superior Charters & Yacht Sales by over 35% in the last three years. Cindy also has a personal passion for introducing sailing to women and has often presented at boat shows and yacht clubs on the topic.

Prior to owning Superior Charters, Cindy spent 20 years in the technology and consulting industry working with organizations of various sizes and structures including start-ups, fortune 500 and non-profit organizations. Her background includes managing organizations through times of change and leadership coaching and development.

Combining a love of boating, the industry and a passion for the Apostle Islands, Cindy continues to operate Superior Charters and Superior Yacht Sales in Bayfield, Wisconsin with her oldest son Alec.

To learn more about Cindy please click here:

https://www.greatlakesscuttlebutt.com/news/press-room/our-journey-of-the-heart/
https://www.jeanneau.com/en/articles/909-racing-to-cuba-aboard-the-sun-fast-3600